SCOOP@F Final Event
publié le 22 août 2019 (modifié le 3 janvier 2020)
SCOOP is the only C-ITS deployment project in Europe built on a cooperation between road managers and car manufacturers, which faced all the challenges of real life : privacy, cybersecurity, industrial processes, calls for tenders, compliance audit, interoperability. Funded at 50% by the European Commission, into two parts (2014-2015 and 2016-2019), the project ends in December 2019. 6 prosperous and exciting years during which the State and local authorities, researchers, car manufacturers and equipment suppliers worked and exchanged together to define, test and deploy the C-ITS services of tomorrow.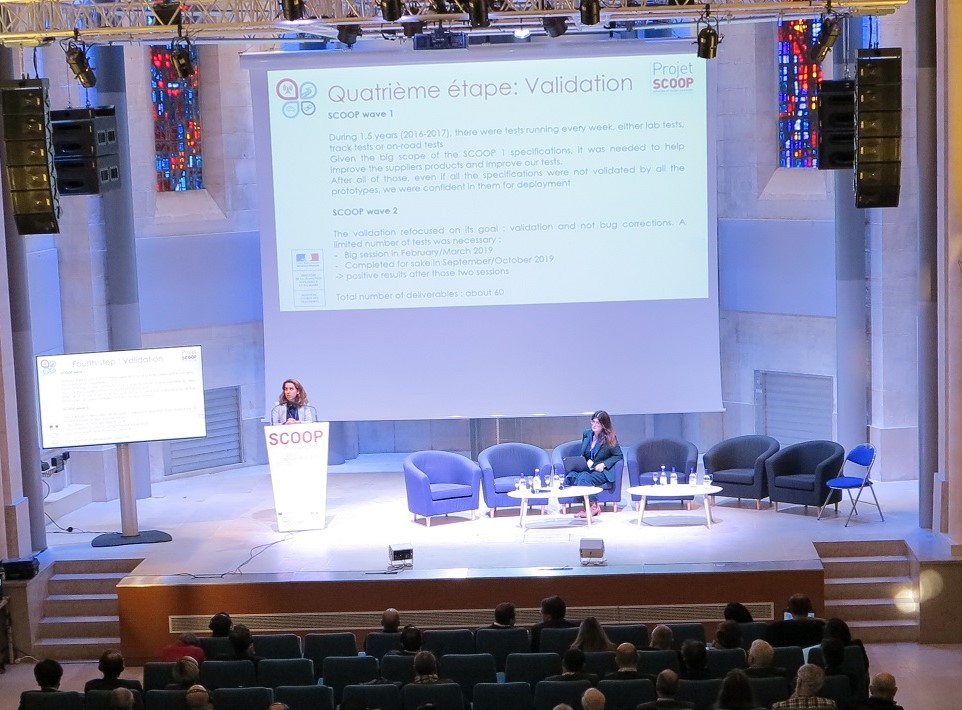 The closing seminar of the SCOOP project took place on November 20th-21st, in Bordeaux. 175 participants, including a quarter of foreign participants, as well as representatives of the European Commission attended the event.
During the first day, the results of the assessments carried out as part of the project were presented, including user acceptance, gains in terms of road safety and congestion in conjunction with the socio-economic evaluation and economic models, assessment of the organizational, health and legal impacts for road operators and their agents, and the technical assessment of the system. The results of the interoperability tests (called CrossTests) which took place between the countries involved in the project (France, Spain, Portugal, Austria) were also presented.
Several highlights marked the event : round table organized on the theme "C-ITS at the service of local authorities", hosted by DIR West, presentation of suppliers of SCOOP C-ITS equipment, presentation of best moments of SCOOP.
The climax was the demonstration of the completely hybrid solution developed in SCOOP, filmed on the Bordeaux ring road with 3 vehicles from DIR Atlantic, Renault and PSA, and broadcast live in the amphitheater of the event. Individual on-site demonstrations were organized in the afternoon of the 2nd day, for part of the participants.
The seminar continued with a presentation of the perspectives and developments of C-ITS at French and European level, including in particular the harmonization work at European level carried out within the framework of the C-Roads Platform, and ended by a closing speech of the European Commission.
SCOOP was the first C-ITS flagship project in France and among the first in Europe, which laid the foundation for the C-ITS architecture and system security. Even if SCOOP ends, its work continues and develops in the other French C-ITS projects currently in progress : C-Roads France, InterCor, InDiD. New services, with a focus on logistics, urban and autonomous vehicle services, will be developed.
The seminar's presentations will be made available on the SCOOP website in the coming days.